Blog
« Catching up with commission paintings | Main | Steamed »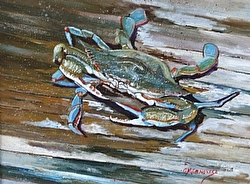 I've done a series of blue crab paintings this year and decided there was one more painting that needed to be done. So far I've painted crabs on the beach, crabs on the dock, crabs in a bushel basket and crabs with claws raised waiting for the final confrontation. So one more had to be done in my mind to complete the series. For those who enjoy these blue beauties alive and swimming, there are those who enjoy them on a plate. Therefore, my last painting of the series will be a plate of steamed blue crabs. Now now,, don't think I'm cruel. There are those who enjoy watching and those who enjoy eatting them. I've included both sides of the scenerio. I must admit that I love to study these lovely sea creatures but I also enjoy the wonderful morsals they provide.
This series has done very well in the gallerys I put them in so for that reason I am offering a print of the Blue Crab on Dock for those who are interested. I have posted it on this blog so you know which one has been made into a print. Over all matted and framed the size is 11x14 under glass. Inside dimension of the print itself is 8x10. The price for this print is $160.00 which includes shipping within the United States. Added shipping charges apply to other countries which I would have to quote those who want to purchase it outside the United States. Please email me regarding the print of this crab as I do not have it posted in the gallery as an available print. Only through emailing me will I accept orders for this print.
I've truly enjoyed creating this series. Have a sparkling day!
---
---
Comments